Librela: Give Dogs More Days of Play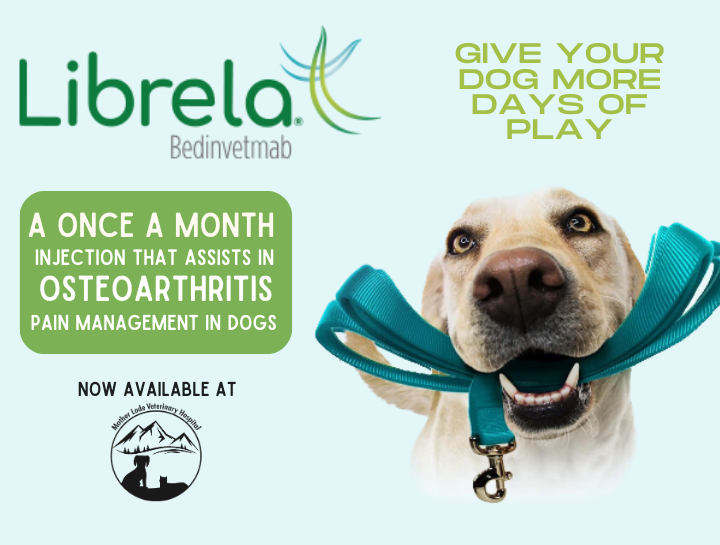 October 25, 2023
What is dog OA pain?
It's a painful, chronic condition that causes your dog to hurt all the time if it's not treated.
OA is a type of arthritis that happens when protective tissue in the joints is worn down, causing bones to rub against one another.
Dogs of all ages, sizes, and breeds can have OA pain—it's not just a condition seen in older dogs.
OA pain impacts how your dog moves and feels, and it can make it hard for you both to do the things you love to do together.
OA pain hurts, decreases your dog's willingness to play, and affects their quality of life.
Is Your Dog Showing Signs of OA Pain?
An OA diagnosis can be missed in some dogs because the signs may be subtle or overlooked as normal changes related to aging
Nearly 40% of dogs show signs of OA pain, but less than half are actually diagnosed.
Your dog could be suffering from OA pain if they're displaying the following behaviors:
Limping after exercise
Slow to rise
Feeling stiff
Lagging behind on walks
Having difficulty jumping
Having difficulty with stairs
Give Your Dog More Days of Play With Librela
Librela provides long-term OA pain control for your dog with a once-a-month injection given by your veterinary professional.
In clinical studies, Librela was shown to control signs of OA pain in dogs, which helped them be more active and improved their overall quality of life.
With long-lasting Librela, your dog can feel better, and you can feel good about their treatment, so you can get back to the activities you both love.
Ask Your Vet About Librela
Librela is a monoclonal antibody that specifically targets a key driver of OA pain. It works to reduce pain signals, making it easier for your dog to move and play.
Librela reduces OA pain, which can help your dog move and feel better.
Librela is a once-monthly injection given by a veterinary professional, which means you don't have to worry about giving your dog daily oral medication for their OA pain.
In a clinical study, the most common side effects in dogs taking Librela vs placebo (no medicine) were urinary tract infection, bacterial skin infection, and dermatitis, and were similar for dogs taking placebo.
For the best possible results, Librela should be given to your dog by your veterinary professional once a month, every month. Because OA pain is chronic, it needs to be treated continually to see and maintain improvement.
Fore more information, visit https://www.zoetispetcare.com/products/librela.
Do you own a cat that could be showing signs of OA?
Ask your veterinarian about SolensiaTM (frunevetmab injection), the FIRST and ONLY treatment approved by the FDA for the control of OA pain in cats.