Know exactly what you're getting.
We offer a full service pharmacy for your pet's needs. We also encourage use of our Online Pharmacy-Vet's First Choice which has allowed us to expand our product line with more competitive pricing, all while allowing our clients to support our business. If we do not have a particular product in stock or online, we will do our best to find the product for you or refer you to a pharmacy that does have it in stock. We have good relationships with local compounding pharmacies, such as RemedyRX in Roseville and Wedgewood Pharmacy, Roadrunner Pharmacy.
These pharmacies can compound prescriptions into formulations to meet the specific needs of your pet – whether it be a taste preference, specific dosage amount, or simply to compound a generic for cost savings. They are also able to formulate transdermal gels for cats that allow you to apply medication in the ears rather than orally, to avoid problems such as upset stomach or for cats that are reluctant to take pills orally.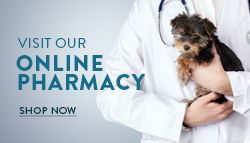 Request a pet medication refill >

For home delivery of your pet's vet recommended food: