Laser Therapy for Pets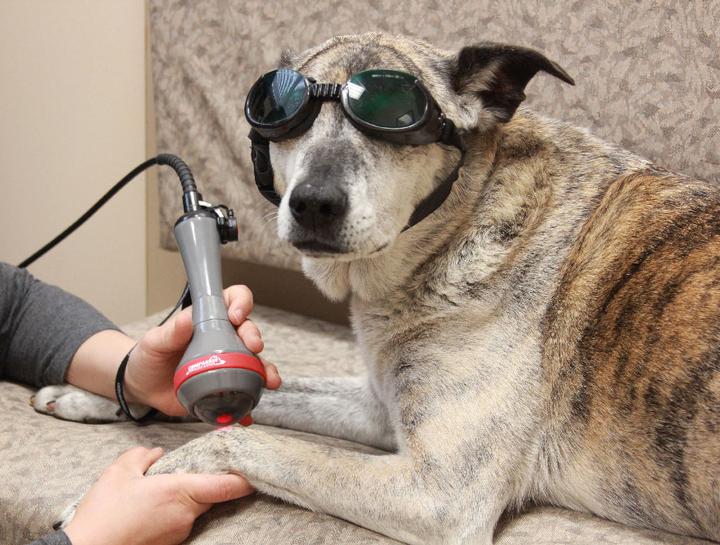 April 11, 2023
Laser Therapy offers a non-invasive alternative to reduce pain and inflammation, as well as speed healing.
What is Laser Therapy?
Laser therapy uses a beam of light to deeply penetrate tissue without any resulting damage. Laser energy in tissue elicits a biological response called "photobiomodulation" which stimulates the body's own natural systems for healing itself.
What is a laser treatment like?
The laser light is delivered through a non-invasive hand piece touching the fur or skin and treating the affected area(s). Your pet may feel gentle soothing warmth as the laser penetrates the body. Most treatments using a Class IV laser take just a matter of minutes. Laser therapy is extremely well tolerated by pets. No known side effects are associated with laser therapy. Treatment protocols are unique to each patient and condition.
Is laser therapy proven?
Laser therapy has been scientifically proven to be successful in treating post-surgical pain and many acute and chronic conditions. Laser therapy alleviates pain and inflammation, reduces swelling, and stimulates nerve regeneration and tissue repair.
Why might my veterinarian include laser therapy as part of my pet's treatment?
Depending on your pet's medical problem, laser therapy may be used as a complement to other treatments, like the use of medication, dentistry or surgery, or it may be used as a stand-alone treatment. Because laser treatment increases circulation, enhances healing, and produced pain relief, there is a wide variety of conditions your pet may have which would benefit from its use.
What is laser therapy used for?
Chronic Pain Management

Arthritis

Spondylosis

Intervertebral Disc Disease

Hip Dysplasia

Tendonitis

Lameness

Acute Pain Management

Sprains & Strains

Lameness

Road Traffic Accidents

Tendonitis

Wound Healing

Wounds

Abscesses

Bone Fractures

Infections

Ear/Skin Infections

Sinusitis/Rhinitis

Anal Sac Disease

Urinary Tract Disease

Inflammatory Bowel Disease

Dental Disease

Post-Surgical

Incisions

Orthopedic Recovery

Dental Extractions

Soft Tissue Surgery
Expectations of Laser Therapy Treatments
Most chronic conditions will show a positive response in 3 to 4 treatments. You should expect at least a 50% improvement in mobility and pain reduction.

Some pets respond positively to just one treatment.

The treated site feels better immediately or within 12 to 24 hours after treatment.

Non-surgical treatments for chronic conditions should be done every other day for 1 week (M-W-F), then twice the following week (T-Th), then once the following weeks, with maintenance treatments every 304 weeks, or as needed based on the pet owner's observations.

Surgical treatments should be done immediately after surgery, then at 24 hours and/or 48 hours after surgery. Then treat the site twice weekly for the 2 weeks period after surgery. Total of 6 to 7 treatments.

Definitive improvement should be seen by the second week of treatments.

Treatment effects are cumulative in nature.

Some patients develop a habit of altering their movements to keep from feeling pain. If you do not see an immediate change, they may be pain free, but need some time to re-adjust their movements.

Laser therapy has no adverse effects when done correctly.

Adjunctive therapies may be used such as Adequan, NSAID's, etc. in severe cases to instill overall pain relief and to make the pet comfortable.
Call our office at (530) 272-6651 or ask one of our team members about trying laser therapy for your pet!